15 Lbs #20 Vitalix All Species
All Species All-Natural Protein
20% All-Natural Protein
This all-natural supplement is for self-feeding situations where any class of cattle, sheep, goats, and horses are grazing in common pasture.
Safe for any class of animal: cattle, horses, sheep, goats, bison, and deer.
All-Natural Protein, no copper added.
Perfect for mixed livestock grazing in common pastures.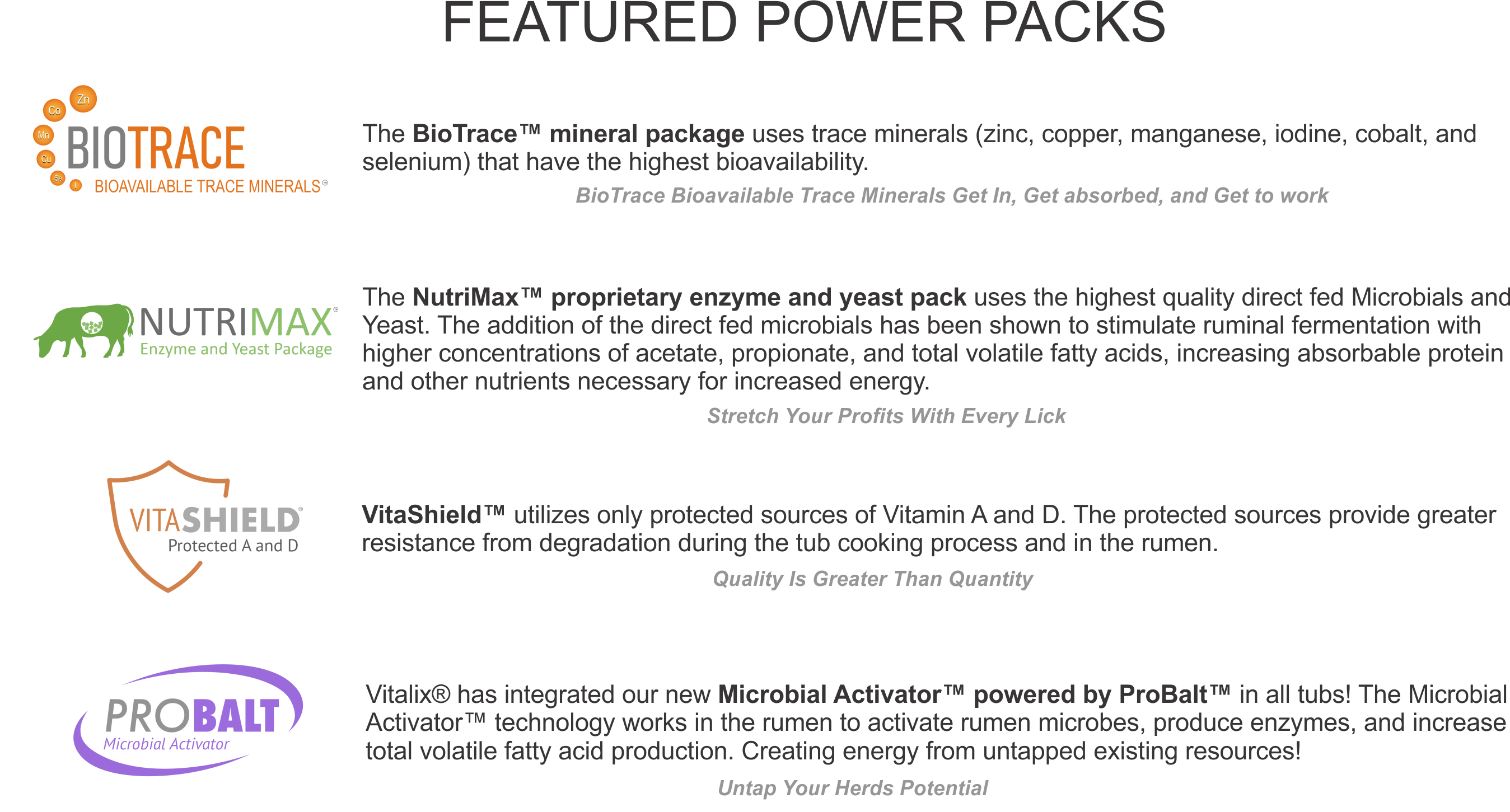 Does not contain any prohibited material
Does not contain added copper. Safe for sheep!
15 lb.
Tub Material
Plastic, Biodegradable Fiber
Formulas Available
#20 All Species
Crude Protein, minimum
20.00%
Crude Fat, minimum
4.00%
Crude Fiber, maximum
5.00%
Calcium (Ca), minimum
1.50%
Calcium (Ca), maximum
2.00%
Phosphorus (P), minimum
1.00%
Potassium (K), minimum
2.00%
Magnesium (Mg), minimum
0.50%
Cobalt (Co), minimum
12 ppm
Copper (Cu), (none added), maximum
5 ppm
Iodine (I), minimum
14 ppm
Manganese (Mn), minimum
1,000 ppm
Selenium (Se), minimum
4.4 ppm
Zinc (Zn), minimum
1,000 ppm
Vitamin A, minimum
60,000 IU/lb
Vitamin D3, minimum
6,000 IU/lb
Vitamin E, minimum
60 IU/lb
Ingredients
Beet Molasses, Vegetable Fat, Plant Protein Products, Processed Grain Byproducts, Monocalcium Phosphate, Dicalcium Phosphate, Calcium Carbonate, Magneisum Oxide, Manganous Oxide, Zinc Oxide, Dried Aspergillus Oryzae Fermentation Extract, Vitamin E Supplement, Sodium Selenite, Ethylenediamine Dihydriodide, Mineral Oil, Yeast Culture, Cobal Glucoheptonate, Cobalt Carbonate, Choline Chloride, Biotin, Folic Acid, Thiamine Mononitrate, Calcium Pantothenate, Pyridoxine Hydrochloride, Niacin Supplement, Riboflavin Supplement, Vitamin B-12 Supplement, Vitamin A Supplement, Vitamin D3 Supplement